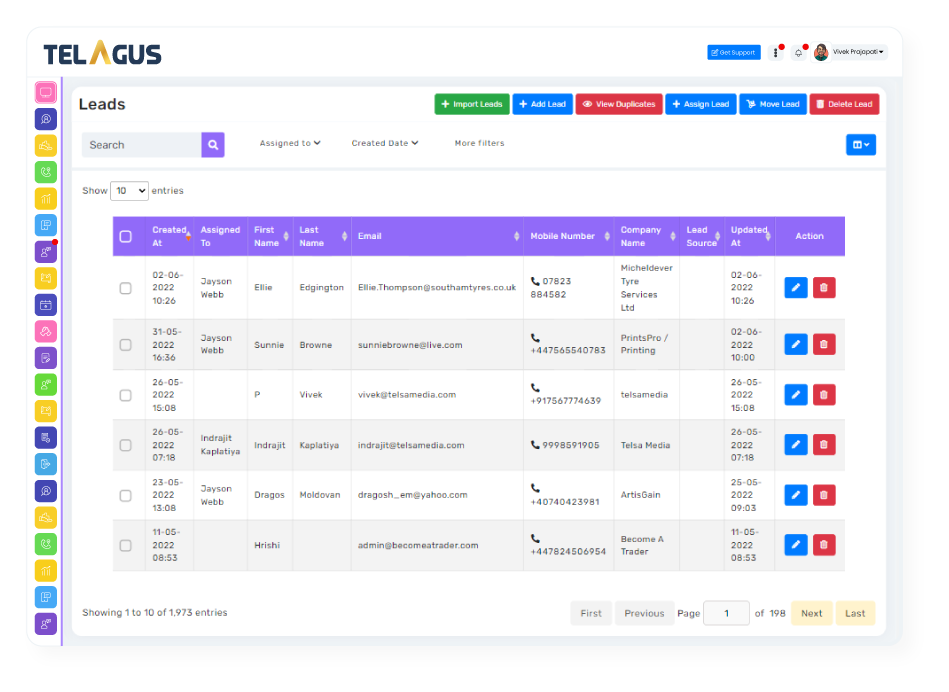 Get your Leads under one Umbrella
As an online business, the phrase 'know your customers' is more than just a slogan but a necessity. In digital merchandising, you would call your targets or customers as leads and identifying them properly is a factor in driving your business to success. Thus, investing in trusted lead management software that has the potential to arrange all your data on leads and accordingly facilitate you in planning your strategy to continue aiding them through your products and services.
While running your business, you must be clear about the funnel through which your customers should pass through to make a purchase and also seek after-sales services. In your pursuit to maintain a seller-customer relationship, adopting Telagus' futuristic tool of lead management system will ensure your growth, efficiency and intelligence.
A customer relationship management system, abbreviated as CRM, is an efficiently built tool that helps you build customer relationships and also use it to assist your workforce towards the common goal of satisfying your target audience. Adopting CRM to manage and analyse customer interaction is the best way to qualify your leads and engage your best resources in fulfilling their needs and maintaining the connection.
Track them, Satisfy Them
The dreadful feeling of having all your marketing operations all over the place and being unable to lead your customers down the purchasing funnel can guarantee a death warranty to an otherwise active ongoing conversion process. So, maintaining them cleverly with the use of our best CRM lead management can ensure you can actively track your leads and satisfy them accordingly.
So, what can you streamline through a CRM lead management system? You will be surprised to know that it will help you more than just manage and maintain your customers but also your suppliers, intermediates and employees.
The following are the perks that you get from Telagus' GEI (Growth, Efficiency and Intelligence) platform.
Drives your team and you into achieving the same goal and actions required to lead your business to success.
Customisable dashboards help you focus on your critical KPIs supported with business intelligence to make sound decisions.
Making Calls-to-Action possible by keeping track of your leads and offering what they need the most with our professional lead management software.
Automate a chunk of manual labour, such as skimming through emails, deleting irrelevant data, etc.
A list of comprehensive options that you can add to your customisable dashboard and managing system.
Qualify, analyse and nurture incoming leads for a strong growing business.
Quit Shelves, Choose Telagus
Pulling a chair to skim through a big shelf to get the right data to apply to a critical situation already sounds complex to achieve for an otherwise smoothly running online business. While you trust the virtual world with running your online store, take a step ahead by implementing a lead management system to track and maintain your leads.
In case you are confused about your choices, let us introduce you to our top lead management software that specialises in delivering the best ways for a business to detect incoming leads and track and manage them efficiently with an easy-to-understand CRM system.
The benefit of Telagus' professional lead management system is that you can determine the channels through which leads pour into your business and give analytical insights on how you must go about your marketing and business strategies to improve traffic. As a modern business, you must have lead management in place in order to get the most out of your prospects and keep your business developing.
Want to dig in more about the features and flexibility we offer through Telagus? Head to our website, book a tour or call our friendly executives for more details.