Business management in the modern age is never going to be an exact science. With so many different online tools and applications available, it can often be really difficult to know which services to use for the best. One of the fastest emerging trends in online business management is, of course, CRM.
But what exactly is CRM? What's the difference between a hotel CRM and an education CRM? If you're completely new to this side of small business dynamics, there's no need to worry. CRM systems are getting easier and easier to use, and Telagus is at the forefront of simple, flexible, and scalable solutions for a huge range of different needs.
So – let's take a look at what a CRM actually does, and why it's so important to look for a trusted application or software to help you manage your business.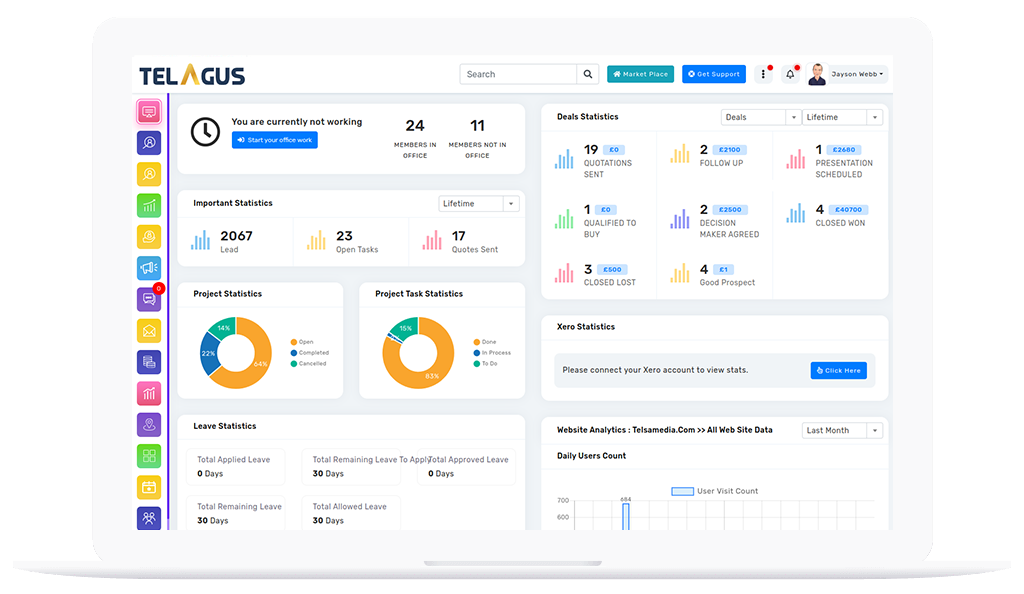 What is CRM? What Does CRM Stand For?
CRM software is designed to help you map out your customer journeys. Think of it as a dashboard, of sorts, where you can manage your client enquiries, projects, and make sure that everyone is up to speed.
It's a central hub where your business can prioritise tasks, set up marketing campaigns, and above all, ensure that your clients are always on the same page. When you're managing multiple emails, IM streams, timetables, and spreadsheets from system to system, it can be a real nightmare to organise everything in a way that's easy for you to access and manage.
That's why CRM systems have skyrocketed in popularity. They help to bring advertising, lead generation, project updates, team conferencing and more into one, simple space. A top CRM system will do the work of multiple high end programs in a fraction of the time and budget.
What is a CRM System Used For?
A CRM system is used for all kinds of daily tasks and project updates. Crucially, it's used to help keep your customers and clients happy. That, ultimately, should always be your goal!
You can manage the entirety of your customer experience from start to finish with the right CRM tool. From automated lead generation through your website to sales projections, project updates and team management, a CRM program is going to do more than just keep your customers up to speed. It's going to make sure that you and your team members are all on the same page, too.
You can fine-tune and tweak CRM systems to alert you to specific project changes. You can use dynamics and analytics produced by a leading CRM to ensure that you know where your business is heading in the long term.
Whether you use an ecommerce CRM system to manage your online store revenue, or an automotive CRM so you can easily track orders and requests, it is power at your fingertips that business owners simply didn't have 10 to 20 years ago. What's more, it's peace of mind and confidence for your customers. If you really want to retain and build on those leads, you are going to need to keep them happy. That's a given.
What is a Web Based CRM?
A web based CRM does what it says on the label. Rather than having to muddle around with clunky installations on multiple devices, a web based CRM is entirely accessible through a web browser, meaning that anyone with internet access, and access rights, will be able to log in and take advantage of project and customer management features.
This means that you can easily set up unique permissions for team members, such as those who are working freelance or who may be working overseas, as well as project clearance for specific clients and customers. A cloud based CRM is one which operates completely off-site, meaning that there are no infuriating overheads or extra costs involved in having to keep everything running in-house.
Cloud and web based services are the future of business productivity. Why shouldn't a leading CRM be any different?
What's the Best CRM Software for Me?
It can be difficult to find the best CRM software to fit the individual needs of both your business and your industry. What's more, you're naturally going to need to think about your customers.
With Telagus, you can take advantage of scalable features, and a variety of built-in, web based tools which you can log in and access from any web browser you please.
Telagus is a leading CRM provider in the sense that it is almost endlessly flexible. Need a specialist insurance CRM to manage new accounts and policies? What about a wealth management CRM, where you can produce regular analytics to see how your clients' portfolios are performing?
Regardless of what you need from a CRM, Telagus is poised to offer it all. Take a closer look at our free demo and free trial now to learn more.